IOTSH01DS
Jump to navigation
Jump to search
IOTSH01 series temperature sensor
Hardware features:
Temperature probe: +- 0.5C C between -10C..+85C
Temperature probe resolution: 12bit (0.0625C)
Temperature probe enclosure: stainless steel
Temperature probe diameter: 6mm
Temperature probe length: 30mm
Temperature probe cable length: 1m
Power supply cable length: 1.5m
Power supply voltage: 100V-240V
Power supply frequency: 50-60Hz
Power consumption: 0.2 W
Power supply protection: double protection
Yearly power consumption: 1.8 kWh
Dimmensions: 85mm x 55mm x 35mm
Communication features
802.11 b/g/n
soft-AP
Up to 5 different networks can be defined
Supports static IP
Scans for strongest network if more than one defined
MQTT enabled
Domoticz integration via MQTT
Home Assistant integration via MQTT
Fast asynchronous HTTP Server

Configurable port
Basic authentication
Web-based configuration
Sensor data from the web interface
Websockets-based communication between the device and the browser
Backup and restore settings option
Upgrade firmware from the web interface

REST API (enable/disable from web interface)
GET sensor data
First time configuration
If the device dont find usable Wifi network, she will create a Soft AP to able configure the device. The name of this AP is starting IOT4SHxxxxxxxxxx , like on the picture.
To connect this SSID use the default password: Littlepig
When your device was connected to the AP, need to open in the browser the address http://192.168.4.1/ .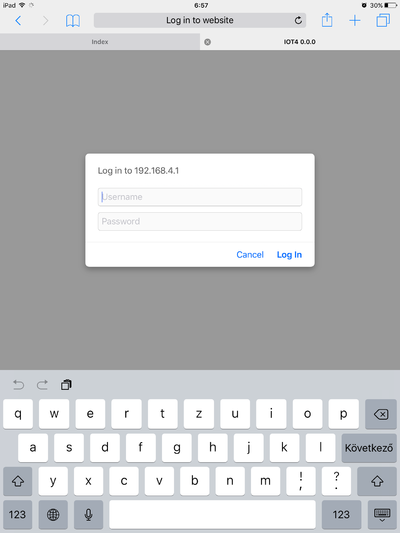 Use the default username: admin and password: Littlepig.
If logged in successfully select the Wifi page.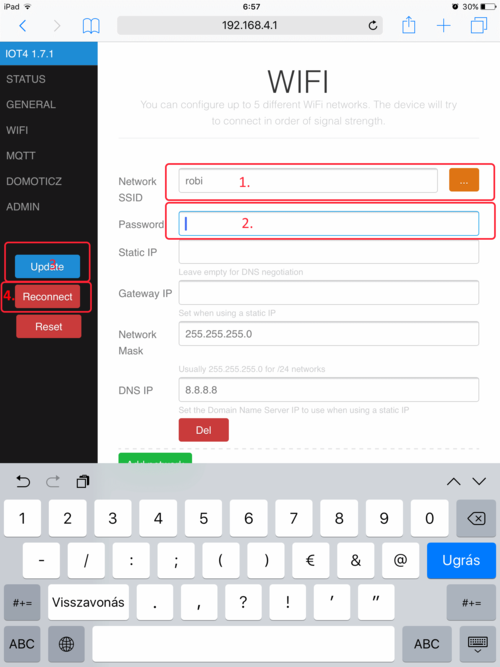 Set your SSID name
Set the password for it
Update the configuration
Reconnect the device to the network